"Time is of the Essence!"
The family history, biography, wedding, and anniversary are among the most cherished video services we offer .... at an economical cost, saving you time, and producing a professional look for generations to come. For more, call Jim at: (651) 483-3593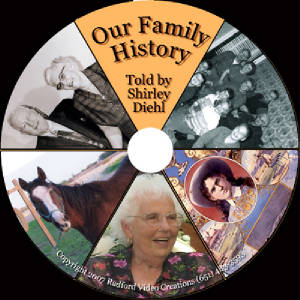 FAMILY HISTORY & BIOGRAPHY: Preserve the memories of your family with photos, charts, audio and video narratives! Document your family as they grew up, played sports, develop their arts, travel and were married. We electronically scan, retouch, color balance, and publish your family photos,video and film to DVD and / or the web for future generations. It's a permanent record. But, "Time is of the Essence."

FAMILY EVENTS: We record original footage or edit your family tapes or stills -- from your children's first hair cut to birthday parties, receptions and anniversaries.

WEDDING, ANNIVERSARY & BIRTHDAY VIDEOS have been our specialty skill, including pre-produced programs for these special events at guest dinners, party or reception for your family and friends. We often employ multiple cameras and custom design programs for unique tastes of the client.

RENT SPEAKERS & PROJECTOR: show your video at a banquet or meeting, using our complete presentation packaqe of twin speakers, mics, projection system and an operator. Our presentation service makes it easy and economical.

TRAVEL EDITING:

convert your vacation still photos and videotapes to DVD ... including selectable chapters, and graphic menus, plus printed labels. See also

our travel consulting

services -- an agency of American Express Travel.

RECORD THE ARTS: music, dance, and theater all require close attention to sound and motion. We capture every angle with multiple cameras and quality sound. We include custom-designed disks and "green-screen" Chroma-Key backgrounds.

VIDEO RESUME: We organize, edit, polish and package your job resume or audition -- for distribution on disk or on the web. We record your narrative or performance in our studio or on-location, or home... in both video and stills with professional lighting, sound and imaging. Make your video look professional.
EDITING: We edit video tape and still images, publishing them to a variety of formats -- recording tapes, CDs, DVD's or the web, sourced from your home or business videos, scanned prints or digital stills. These may include vacation and family holiday tapes, weddings, meetings and presentations. We edit the mini-DV format, Hi-8, C-VHS and VHS -- as well as most film footage.
ETHICAL WILL: pass along your family traditions -- described in a recent issue of AARP Magazine, the 'Ethical Will' is your life story -- a non-legal document that imparts beliefs, values and experiences, lessons learned in life, what's important, personal passions, and hopes and wishes for loved ones. Anyone over 50 should take some time to write their life story, if only 20 pages, for their children and grandchilden. We put the 'ethical will' to video, as you read it using our teleprompter, enhanced with family video, audio or still photos. Your children will thank you! Contract us now to schedule your recording event.



Cellphone: (612) 819-4386 -- Minnesota
Office Phone and FAX: (651) 483-3593
All Rights Reserved - 2011 Radford Video Creations